22 June 2023
Chapter One Volunteer Recognition Awards
Held on 22 June 2023,
hosted by Janus Henderson Investors
---
Chapter One celebrates 5 years and 5,500 children!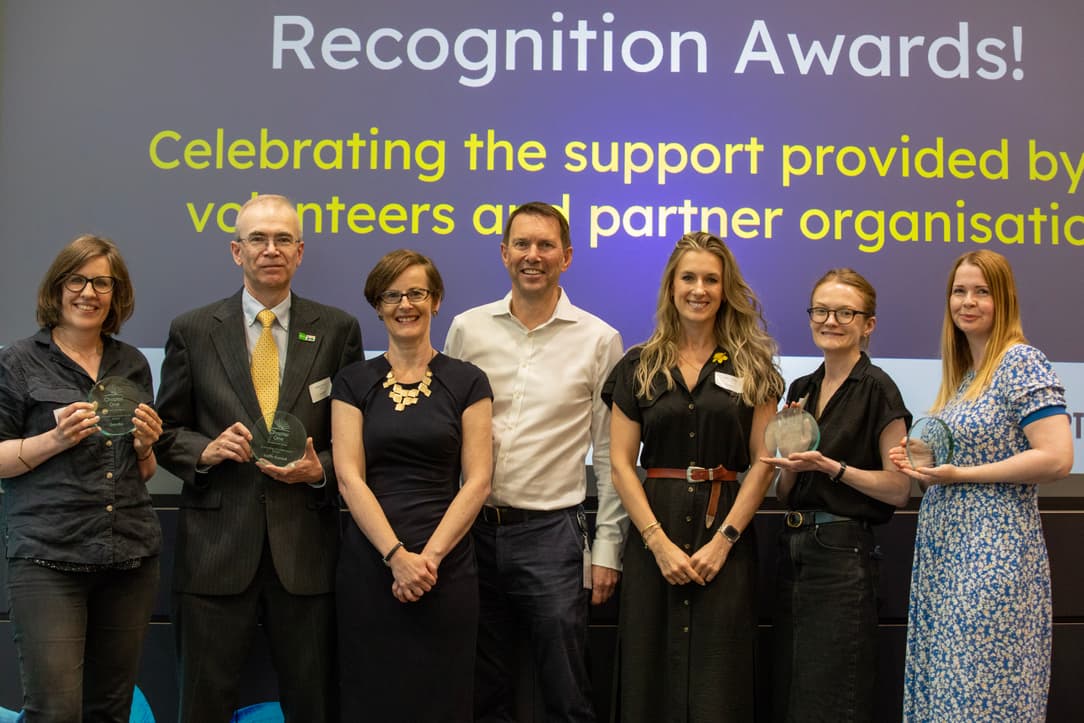 2023 is a very special year for Chapter One as we mark five years of delivering our online reading volunteer programme to children across the UK. On 22 June, we invited our corporate partners and their teams of Chapter One volunteers to join us in person or online for a special event to say thank you for their incredible support to enable us to reach this milestone and improve the literacy skills and life chances of over 5,500 children. We heard from some children about how they love Chapter One reading and presented well-deserved awards to both individuals and our corporate partners.
We are enormously grateful to Janus Henderson Investors - our founding partner in the UK - for hosting the reception at their Bishopsgate offices in London, and for enabling those who couldn't be there in person, to join us for the presentations online.
In his opening remarks, Roger Thompson, the Chief Financial Officer at Janus Henderson Investors, who has read with a Chapter One child for four out of five years of Chapter One's operation, said: "We're very proud of our ongoing relationship with Chapter One. Early literacy is just so critical. As a company we believe in the transformational power of education and it all starts with literacy. Reading is the key that unlocks it all."
Emma Bell, CEO of Chapter One, said: "We are of course keen to grow our work and reach as many children as possible but at the heart of what we do is the relationship that every single one of the volunteers at Chapter One has with a child. The impact on the children is evident from the data we collect, from the feedback we have from teachers who tell us how children's confidence blossoms and the fact we have a waiting list of schools keen to join the programme. Our volunteers are building children's reading confidence and making them feel like they matter, that someone outside their family, or their teacher, cares enough about them to call them every week, and that's hugely important."
Lauren Sibuns, a teacher at a Chapter One school which has been part of the programme since 2018, said: "The impact that you have all had on the children that I've taught and been involved with as a class teacher and as an assistant headteacher is just so invaluable...It means so much to the children and their development but also, academically, a child's reading age is one of the most important ways of determining how they might achieve over their lifetime... As a leader in a school the data genuinely speaks for itself. In that very first year when we had a lot of children who are working towards the level they should be in year 1, every single child from that first cohort of Chapter One children passed their phonics screening check and then when they take their key stage 1 SATS as well in year 2 they were at expected reading level."
Volunteer Recognition Awards
The awards recognised both individual online reading volunteers' contributions and the commitment and support of our corporate partners.

Volunteer Awards
Outstanding Volunteer Commitment Award 2018-23
Most classroom sessions provided by a volunteer who has supported a Chapter One pupil every year since 2018
Eddie Durrant, NCR
Outstanding Volunteer Commitment Award 2022-23
Most classroom sessions provided by a volunteer in the 2022-23 school year
Dina Zavali, Deloitte

Outstanding Volunteer Commitment Award 2022-23
Most Chapter One @Home sessions provided by a volunteer in the 2022-23 school year
Zoe Parkes, Marsh
Organisation Awards
Volunteer Recruitment Award 2018-23
Partner that has recruited the most online reading volunteers over 2018-23
Deloitte
Volunteer Recruitment Award 2023
Partner that recruited the most online reading volunteers in the 2022-23 school year
KPMG
Volunteer Commitment Award 2018-23
Partner that has the most number of long-standing online reading volunteers over 2018-23
Janus Henderson Investors
Volunteer Commitment Award 2023
Partner that has provided the highest number of average sessions per volunteer over the 2022-23 school year
Ocado Group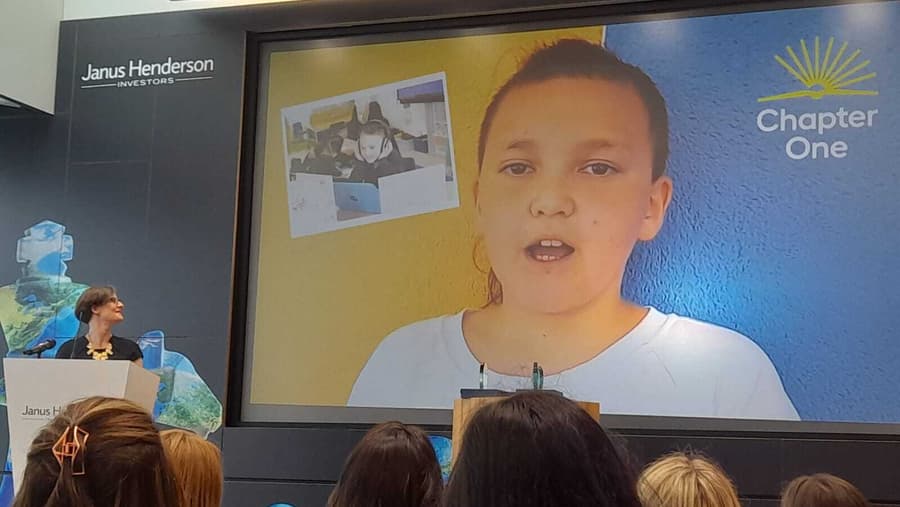 Summer Appeal:
Transforming Children's Futures!
In celebration of our first five years, we launched at the celebration and recognition evening a Summer Appeal with a target of raising £50,000 to help us reach even more children and to enhance the Chapter One experience for children. Your donation will enable us to replace and upgrade our IT equipment, and develop more literacy games and resources for the platform.
Donations can be made via Chapter One's JustGiving campaign page. Thank you!