22 February 2023
Chapter One comes to Cumbrian schools!
Our highly collaborative partnership with the Programme and Project Partners (PPP) in West Cumbria has enabled us to launch Chapter One online reading volunteers in a completely new region in record time.
---
Chapter One's partnership with the Programme and Project Partners at Sellafield Ltd (PPP) has brought our online reading volunteers programme to schools in West Cumbria, helping to transform local children's lives by tackling social inequality at the root cause and delivering meaningful social impact.
Statistically, West Cumbria has some of the most socially deprived, disadvantaged areas in the country. Poor reading ability at primary school level is one of the biggest risks to children's future success and is a particular issue within the region.
Delivering meaningful social impact is fundamental to how the Programme and Project Partners (PPP) operate. Social value targets are embedded within the PPP procurement process and are a key driver for delivering social impact in the region.
As part of this commitment, PPP wanted to support children and schools within the area. However, with many of the Sellafield partner companies being located outside West Cumbria, getting volunteers into schools was going to be a challenge. This is where Chapter One's digital, remote volunteer reading platform came into its own - enabling those companies with staff outside the region to tackle the literacy issue locally.
The PPP social impact team took a lead role in securing support for the programme. They supported the Chapter One team in bringing together interested companies, schools and corporate volunteers, helping to sign up 11 sponsor companies and six participating schools in some of the most economically deprived areas in West Cumbria.

In total, Chapter One will have 111 online reading volunteers aligned to 111 5- 7- year-old students in the region, who will read together for 30 minutes a week for the rest of the school year.

"Chapter One will be extremely beneficial to our children to support them reading regularly with an adult for a sustained period of time every week. This is quality 1:1 work with children of all abilities and will help them to improve their fluency, comprehension and use their phonic skills to decipher unknown words. Chapter One was very helpful and supportive during the process of setting up and through to the sessions starting. I'm looking forward to seeing the impact and improvement in results over the year," said Tanya Peers, headteacher at Flimby Primary School.
By developing the partnership with Chapter One, the PPP social impact team has enabled their supply chain partners to deliver measurable benefits to the local community whilst also delivering against contractual KPIs (Key Performance Indicators). Using the Chapter One platform, the reading level of students is measured at the start of the process and again at the end to understand how much progress the students have made, with the average reading level of the students improving by 3.9 levels out of 9.
For the online reading volunteers, being part of the programme is a chance for them to give back to the community in West Cumbria, and ultimately, make a difference to the lives of the children taking part.

Tracey West, Supply Chain Directorate Social Impact Manager at Sellafield Ltd said, "The commitment from our PPP partners and supply chain to initiatives like the Chapter One reading programme is fantastic to see. It really shows how our supply chain is embracing our Social Impact Multiplied programme - SiX - which recognises how more can be achieved in partnership, and how the impact can be multiplied through collaboration. I can't wait to see what we will achieve together in 2023 and beyond."
PPP and Sellafield worked with the following partners who sponsored the initiative:
NWEC Alliance, Jacobs, Balfour Beatty Kilpatrick, Cavendish Nuclear, MITIE, Orano, Kier, Metalcraft, Sellafield Ltd, BEP, Seddons
The schools that are currently involved are:
Ellenborough Academy, Northside Primary School, Kells Infant School, Broughton Moor Primary School, St Joseph's RC School, Flimby Primary School
There is a target of expanding from six to 11 primary schools in the next academic year.
We are grateful to all the project's wider stakeholders including: Sellafield Ltd social impact team; WELL Project; Cumbria County Council Learning Improvements Team; Primary Business Partnership and Centre for Leadership Performance; and Cumbria Observatory.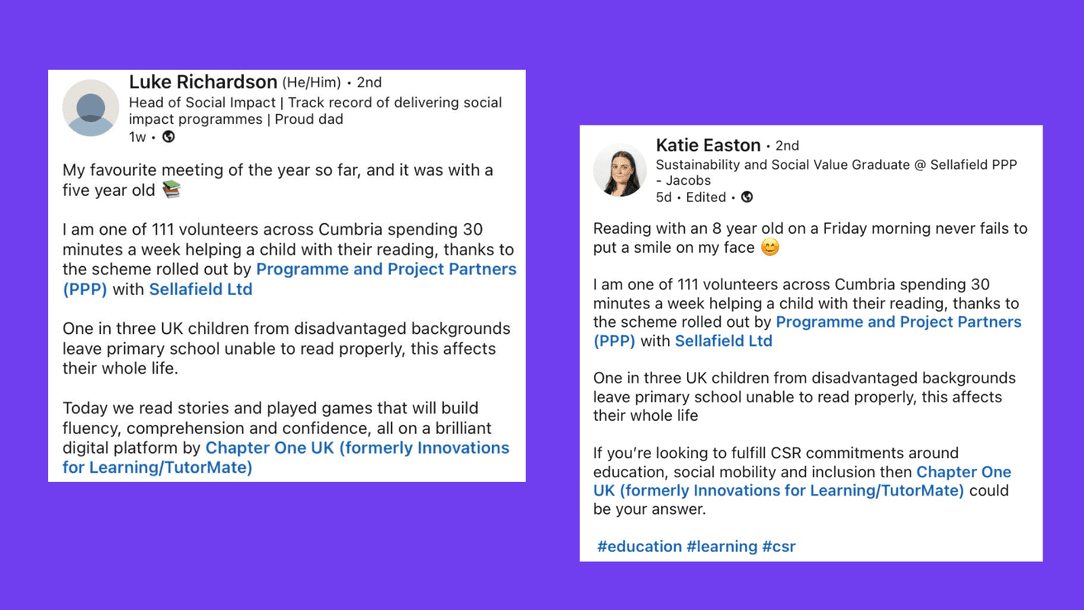 HOW CAN COMPANIES GET INVOLVED IN CHAPTER ONE?

Our virtual, time-efficient, flexible model for volunteering will enhance your company's employee value proposition, whilst fulfilling CSR or social value commitments around education, social mobility and inclusion. Employees can:
- volunteer online directly from their desks with no travel
- make a direct impact on the lives of disadvantaged children
- support local communities across the UK
- improve their own well-being by helping others
- reconnect with your company's social purpose
If you're interested in joining us, we'd love to hear from you! You'll find out who we currently work with on our partners' page. You can contact us by emailing sarah.taylor@chapterone.org