04 September 2023
Fundraise for Chapter One and strengthen your volunteer community!
Help spread the word among your colleagues about Chapter One, have some fun and do good by donating to our 5th Anniversary Fundraising Appeal target!
---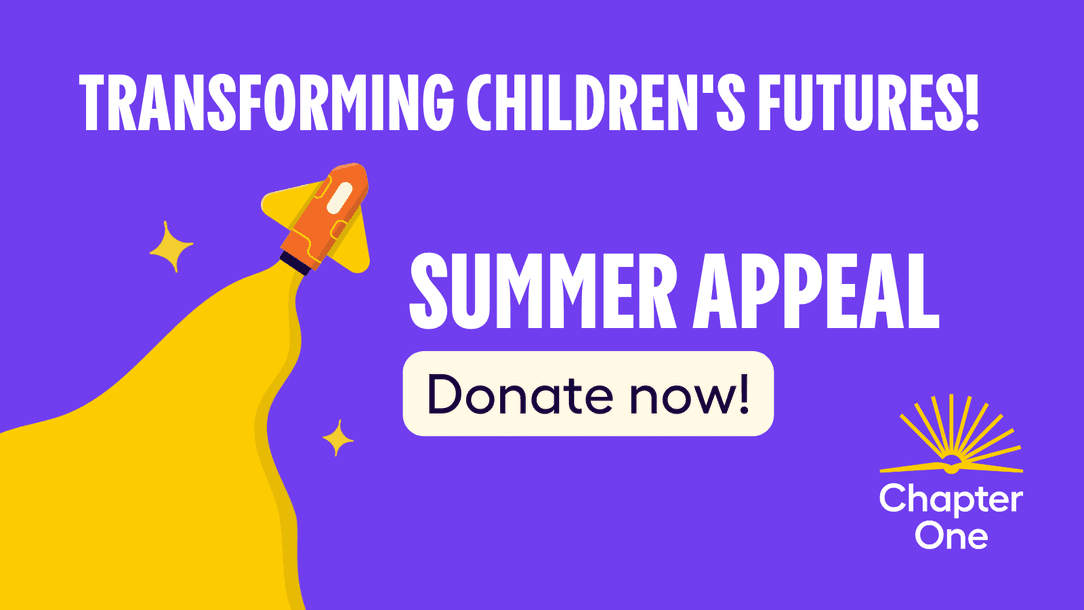 For our existing partners, the Chapter One 5th Anniversary Appeal offers a great opportunity to community build - we love it when our community of volunteers gets really involved in the Chapter One mission! Organise an office-based or online fundraising activity to have some fun, do (even more!) good and spread the word among your colleagues about Chapter One - this could additionally serve as a great recruitment drive if your company is partnering with us again for the new school year.

It doesn't have to be complicated or time consuming, often, the simplest ideas are the most effective when it comes to fundraising! Here are some literacy-themed ideas to get you started:
Book clubs and swaps
Help reinforce our message that giving back as a volunteer, reading and wellbeing are inextricably linked! Get together with like-minded colleagues and keen readers, enjoy yourselves, learn something new. You could ask colleagues to make a donation to take part and even rustle up some tasty treats to boost your fundraising total!
Book quizzes
If you have team members who love nothing more than to show off their passion for prose, grasp of grammar, or all round literary knowledge, then why not get them to host your own literary quiz? Again, ask for donations to take part and include some refreshments if you're holding an in person quiz.
Virtual fundraising ideas
As a tech-focused charity, you'd expect us to come up with some virtual ideas for fundraising and community building! Don't forget that book clubs and quizzes are also perfect online activities for supporting Chapter One and developing your volunteer team spirit.
Dress down (or up) day
An oldie but a goodie! Could you hold a dress-down day, or even a dress-up day with a literary theme to raise funds for Chapter One?
Reading challenge
Could you and your colleagues challenge yourselves to read five books during August to celebrate Chapter One's five years of providing reading support to children in disadvantaged communities? Or undertake a 5-hour-long readathon in recognition of the fact that only 1 in 5 children aged 5-8 own their own book? Maybe you could re-read and share your favourite books from childhood?

Social media and communications
Don't forget to make a splash about your employees' involvement with Chapter One on your social media and communications platforms! We have put together a communications toolkit to support and inspire you but feel free to reach out to us with other ideas.
Note: Make sure to keep your fundraising activity safe and legal by checking guidelines and procedures beforehand.
Keep in touch!
Email our Fundraising Manager Lisa Barea (lisa.barea@chapterone.org) to discuss your community building ideas or to tell us about your fundraising plans. Once you've decided on a fundraising idea, make sure you let us know then head over to JustGiving and select 'Start fundraiser' to set up your fundraising page. Don't forget to tag us on LinkedIn, Twitter, Facebook or Instagram too!
Thank you and good luck!