03 November 2022
Why our company chose Chapter One
Cisco's Sam Moylan-Heydt shares her perspective on Chapter One's online reading volunteer programme, both as a CSR manager, and a volunteer!
---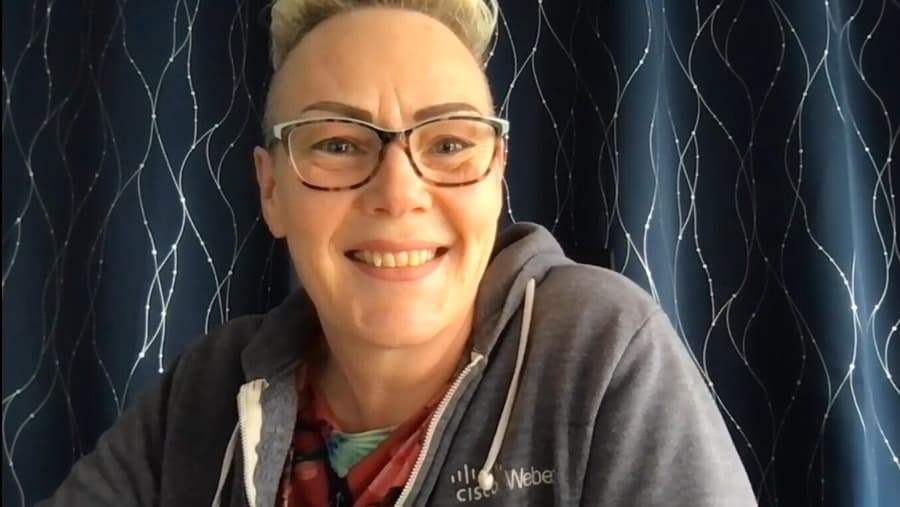 As a corporate social responsibility manager, what is it that particularly attracts you to the Chapter One model of virtual volunteering?
The Chapter One programme (or TutorMate as I've always know it as!) was a very easy thing to say yes to, both for Cisco as an organisation and for me as a CSR manager. At Cisco, we do a lot of giving back. The company gives every employee five days a year to volunteer for a charity, organisation, or cause. Cisco looks to support the underserved in our communities and Chapter One helps kids who just are not getting extra support with reading in their home life and need a bit of extra help. We actually started supporting Innovations for Learning/TutorMate slightly before the pandemic but once the lockdowns started virtual volunteering of course became even more valuable. People like to do things that can instantly make them feel good - and reading with a young child can do just that!
It is the highlight of my week speaking to my reading buddy Sienna. And if you look at the chat that goes on between the other Cisco online reading volunteers, you can see how much they enjoy it too. At the end of their sessions, they'll post on our intranet about what a good session they had. And that, of course, creates a community because they're involved in the same thing. And community is very important to the culture at Cisco, especially given how much remote work we do. Even though we can all go back to the office now, a fraction of people have returned at least on a daily basis. That limits the type of volunteering that people do because previously we might have all gone into the office to do it. But this is a great remote activity. As soon as the annual volunteer recruitment offer goes out, people sign up to it. And I've thought, should I step back and give other people a chance? I feel a bit greedy, having some volunteering that I do that I enjoy so much!
There is no other remote volunteering programme that I know of, offered on the same scale, that allows any of our team in the UK and Ireland to take part. It doesn't matter where you are based or who you are as a member of the Cisco team, you can take part in the Chapter One programme. While you need to go through some initial online training, on a weekly basis it is only half an hour of your time from your desk wherever that may be.
Cisco enters the Great Place to Work Awards every year and this is one of the volunteering opportunities that we always talk about, especially in the last couple of years with the pandemic and the rise in hybrid and remote working.

What does volunteering for Chapter One give you personally?
Honestly, I can go into a session and be in the worst mood and come out of it just feeling happier. I tell my boss, "I'm just off to do my favourite thing of the week". It's nice just to step away from all the things that are going on in your life and, for that half an hour, be totally focused on connecting with your student. It's no good trying to multitask as we often do during our jobs, flicking our attention across our first and second computer screens. I never do that when I'm doing the reading with Sienna. And that's one of the reasons why, even if you start in a bad mood, you end up in a good mood. I look forward to it; it gives me an opportunity to feel like I'm doing something good. And I can tell that it's a happy half-hour for us both.
Could you share some favourite moments, times when you've felt that your student's confidence has really improved?
The moments that sit with me are those moments when you actually help them have a deeper understanding of what they are reading. We were reading the other day a story about a dog and its paw but Sienna couldn't read 'paw'. And I said, "You know what 'paw' is?" And she said, "Yes, it means when you haven't got any money." So then we had the chance to have a conversation about the understanding side of reading and how there are lots of words in English that sound the same but have different meanings. And it's those moments that you can see drive the child forward.
Also when I no longer have to click on words to help her. This week I said to Sienna, "Do you need me to click on the word so you can read it?" But she said, no, she could read it without that help. And so it's really important to keep asking them questions even though you might be reading a story. Clarify that they're understanding things.
And it is an absolute delight because I've had a chance to form a relationship with Sienna. When Sienna comes on to the weekly call now it's very different from how it was six months ago. There isn't a class 'answerer' and when I call into the classroom for our session, she is expecting me and picks up the call herself. And straight away, we're into a conversation. Initially, she was a bit quiet. She was worried about getting things wrong, whereas now we just have a great time! We laugh a lot!
What tips do you have for new Chapter One volunteers?
The training offered by Chapter One is really useful because when you come at this as a volunteer, you're like, "Well, how do you teach a child? How are they learning to read nowadays? Do you do this? Do you do that?"
Sienna is my second student and I worry less than I did with my first student about whether I am doing the right thing, or if I am doing it exactly how it should be done. For me, it's more about how a session has gone as a whole as opposed to the individual teaching bits.
But actually asking the child what they want to do is one of the things that really helps as well. So, if Sienna is halfway through reading a story, and it's a day when it isn't going that well, I might say, "Shall we just do something else today? Do you want to play one of the games instead?" So you need to be willing to read what's going on with them and be flexible. There might be a week when they are reading something that normally they could read quite well, but that particular time they're struggling with it. If you hear the enthusiasm in their voice waning, you just need to step in there and offer to switch to something else. Well, actually, Sienna is now comfortable enough with me to herself say, "Can we do something else, please?"
So like the conversation about 'paw' and 'poor'. We'll learn a new word, and I say, "Do you know what that means? This is how I would use that word, how would you use it?"
I would also encourage tutors to use the 'high fives' and rewards that the platform gives tutors to use. Sienna really loves it when one of those pops up on her screen!
HOW CAN COMPANIES GET INVOLVED IN CHAPTER ONE?
Chapter One's virtual, time-efficient, flexible model for volunteering will enhance your company's employee value proposition, whilst fulfilling CSR commitments around education, social mobility and inclusion. Employees can:
- volunteer online directly from their desks with no travel
- make a direct impact on the lives of disadvantaged children
- support local communities across the UK
- improve their own well-being by helping others
- reconnect with your company's social purpose
If you're interested in joining us, we'd love to hear from you! You can contact us by emailing sarah.taylor@chapterone.org