25 November 2022
Why I volunteer - Christian Goldsmith, Morgan Stanley
Christian Goldsmith, Managing Director at Morgan Stanley Investment Management was one of the company's 30 reading volunteers during the 2021-22 school year. He was matched with a young pupil at Harbinger Primary School in Tower Hamlets.
---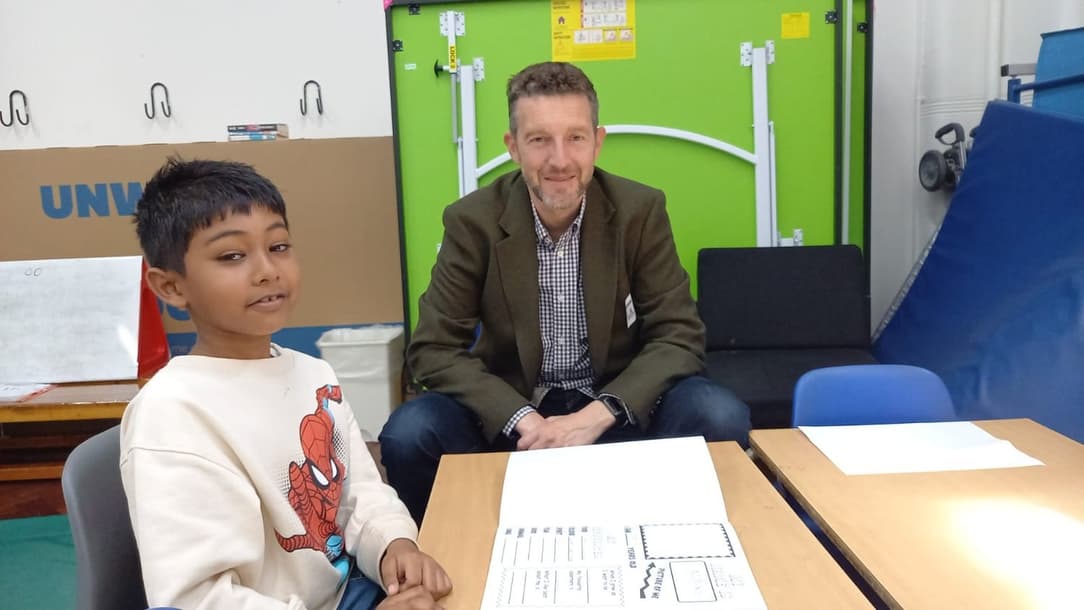 How did you come across Chapter One's programme?
The starting point was an email call out for volunteers that went around within Morgan Stanley and my arm of the organisation which is Morgan Stanley Investment Management. I have to be honest: I had so many other voluntary activities on the go at that time that I initially didn't sign up. But my close colleague who oversees our partnership with Chapter One (then known to us as TutorMate!) is so passionate about the programme and how society can't expect children to progress in life if they don't have the basic skills in place, that he convinced me to give it a go. I'm now signed up for next year as well!
As a senior manager in your organisation, what do you see involvement in Chapter One giving your teams and your colleagues?
People in the office volunteer with Chapter One across all levels and in a range of functions; some of us have children, some don't. The programme gives us a chance to meet new colleagues and is a source of conversation and connection. It's also an important avenue for putting into practice one of Morgan Stanley's core values, which is Giving Back.
Did you visit the school to meet your reading partner in person?
Although it's very enjoyable doing the online reading sessions, I was very keen to have the opportunity to meet my pupil face-to-face. The Canary Wharf community [where Morgan Stanley Investment Management is based] is aware that we work in these enormous, shiny, futuristic skyscrapers whereas a 30-minute walk down the road can take you to a totally different environment in Tower Hamlets. As I walked back from my school visit, I saw what other people saw. It was useful - even humbling - to be reminded of this contrast in the two sides of the same London borough. It was also valuable to get a better sense of my pupil's classroom life as well, which I found really impressive.
Tell us more about your relationship with your pupil over the course of the school year.
I think it's gone very well! He seems like a very patient, sweet youngster, even a little bit shy. There have been times when I've struggled to hear him properly. Sometimes it might have been his shyness; other times it might have been tech issues like perhaps the headphones. I think we've established a good relationship. He's very keen to tell me about things he's doing at home – and, of course, you have to make sure that those are things you're allowed to know about. He's told me about his karate and his cat, so much so that sometimes I've had to get him back on track with the reading! But, what's remarkable, is overall I've seen his enthusiasm for reading growing. I had a session with him two days ago, and his reading was so much more confident than it had been. I very much look forward to speaking to him when we have our sessions.
What would you say to someone who asked you what online volunteering was like?
Actually, I would say it's a nice break from the working day. Work can be quite stressful for a lot of people. Sometimes you might think, "I really can't fit that in, maybe I'll cancel it today". But I've discovered I never regret not cancelling. Reading with my pupil this last year has given me a chance to switch off completely for half an hour during my working week. It's a reminder that there are other sides to life out there. It's also allowed me in a small, but important, way to fulfil a pledge to give back to the community I work in. In fact, when I've done one of my Chapter One sessions while working from home, my wife has said, "It's so nice hearing you talking to that child - you sound so sweet!"

HOW CAN COMPANIES GET INVOLVED IN CHAPTER ONE?

Our virtual, time-efficient, flexible model for volunteering will enhance your company's employee value proposition, whilst fulfilling CSR or social value commitments around education, social mobility and inclusion. Employees can:
- volunteer online directly from their desks with no travel
- make a direct impact on the lives of disadvantaged children
- support local communities across the UK
- improve their own well-being by helping others
- reconnect with your company's social purpose
If you're interested in joining us, we'd love to hear from you! You'll find out who we currently work with on our partners' page. You can contact us by emailing sarah.taylor@chapterone.org