12 July 2023
Chapter One end-of-year reading celebrations 2023
Certificates, stories, snacks and friendship! Some highlights from our recent reading celebrations
---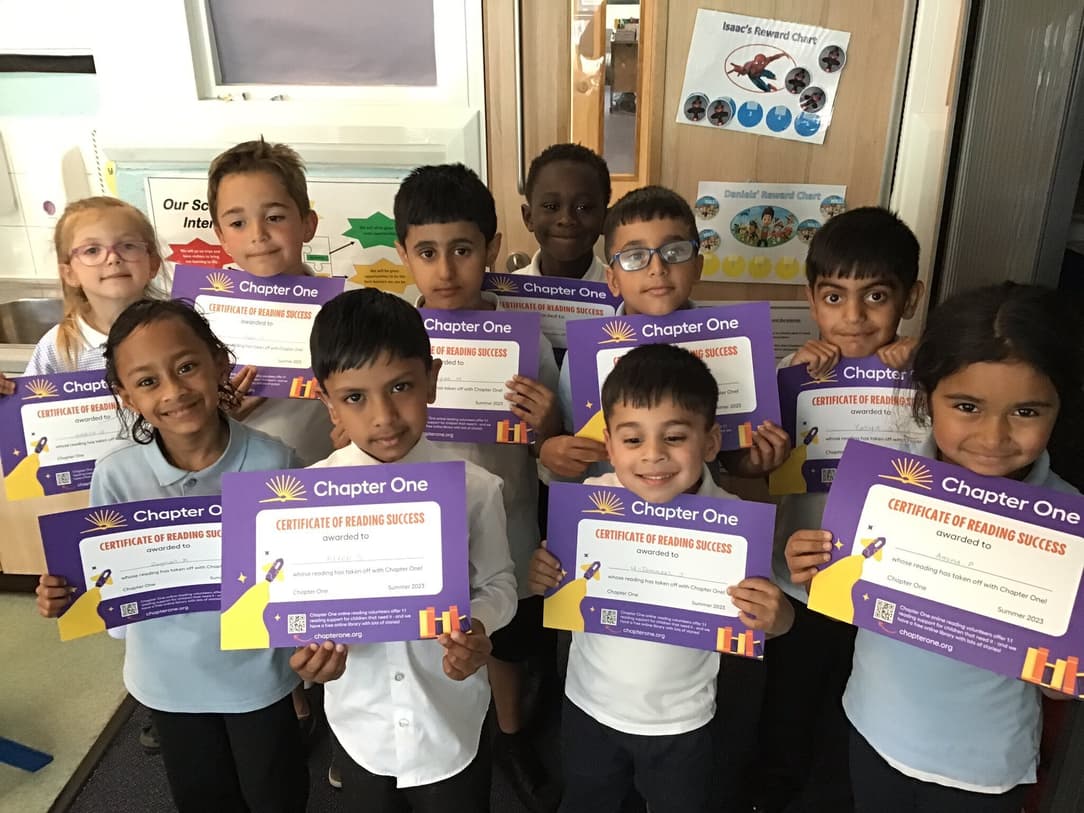 A highlight of the Chapter One year is the reading celebrations we arrange with our partner schools up and down the country in June and July as the school year draws to a close. The celebrations are like graduation ceremonies for the children who have been part of the online reading volunteers programme and, depending on the distance of the team of volunteers from the school, will be either in-person or over Zoom. The volunteers have rock-star status when they walk into the classroom or appear on the screen and a tear or two has known to be shed when the volunteer-child pairs reflect on their year of reading together!
Here's a small snapshot of some of the celebrations we've had so far - keep an eye on our social media over the summer for many more!
Horton Grange Primary School, Bradford
Our first celebration of the summer was in Mr Taylor's year 1 class at Horton Grange Primary, Bradford, with wonderful volunteers from Azets.

Wenbourne Primary School, Peterborough
Online reading volunteers from Dentons spent an afternoon reading with their pupils - and eating jam sandwiches!
Aultmore Park Primary School, Glasgow
Online reading volunteers from CMS, NCR, Sunbelt and KPMG met their pupils at Aultmore Primary School. As well as awarding the children their certificates, they enjoyed sharing with them the special Chapter One literacy activity books we give to all the children.
Bonner Primary School, Tower Hamlets, London
Our online reading volunteer guests were from ISG, Samsara and SUSE.
Moreland Primary School, Islington, London
Online reading volunteers from Euromonitor, Janus Henderson Investors and Hogan Lovells joined in the fun!
Help us give more children 1:1 support at the time they need it most!
Donate to our Summer Appeal and help transform children's futures!
In celebration of our first five years we are launching a Summer Appeal with a target of raising £50,000 to help us reach even more children and to enhance the Chapter One experience for children.
At Chapter One, 80% of our funding comes from the generous support of our corporate partners but we are reliant on the support of individuals and trusts and foundations for the shortfall. A donation to our Summer Appeal will enable us to replace and upgrade our IT equipment, and develop more literacy games and resources for the platform.