06 June 2023
Why I volunteer - Kim Nash from Hachette UK Group
"The thought of being unable to read is something that I can't comprehend because I can't imagine a life without reading or books in it."
---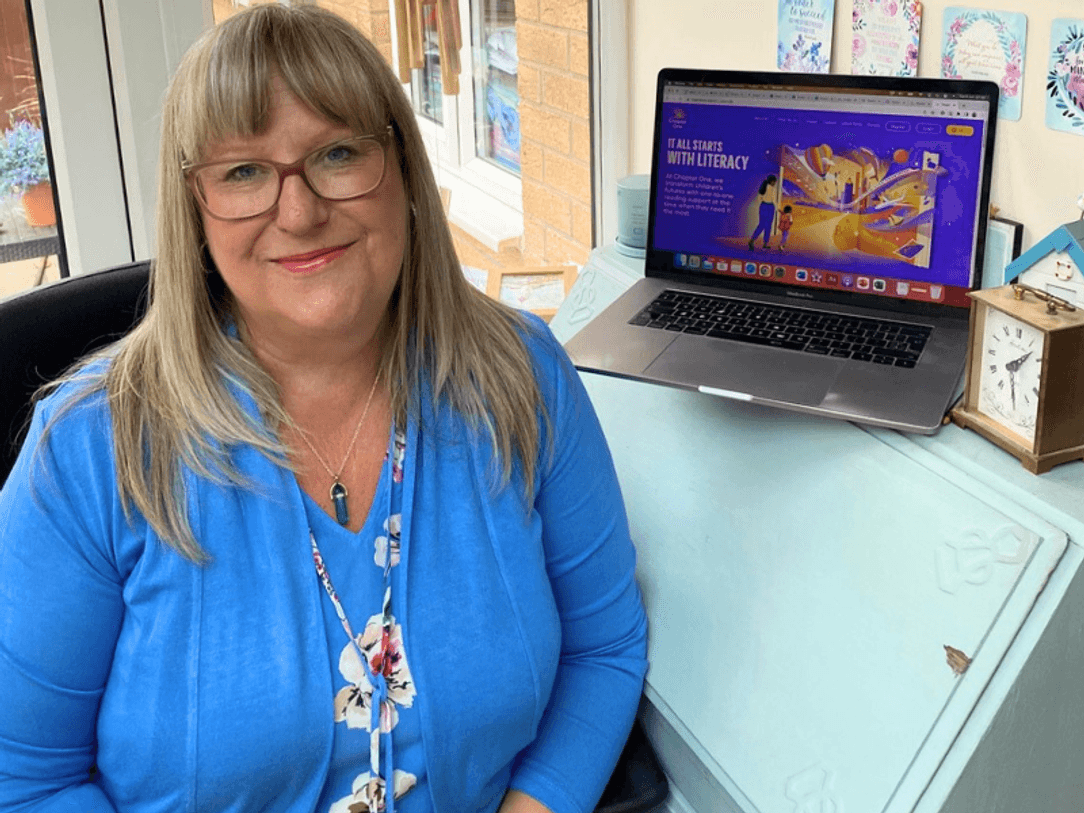 With Chapter One you can be a busy full-time employee and still find time to give back
For Volunteers' Week 2023, we caught up with Kim Nash who is the Digital Publicity Director at Bookouture, a division of publisher Hachette UK. She is in her first year as a Chapter One online reading volunteer.

Why did you sign up as an online reading volunteer with Chapter One?
The thought of being unable to read is something that I can't comprehend because I can't imagine a life without reading or books in it. I'd been trying to find a way to volunteer some of my time to help people who are unable to read or need more help but as a full-time employee, an author myself, and a busy mom didn't have a great deal of time. When I saw Hachette share about the Chapter One programme, and see that you can do as much or as little as time allows you to spare, I didn't hesitate to sign up.

Describe the signing up process? Was it straightforward?
The process was really easy and there was help and such comprehensive support and resources all the way along. Once accepted, we were given broader introductions and online training to make sure that we were fully aware of our responsibilities as part of the programme and the types of things that we would be required to do.

How has online volunteering been for you?
Initially, I was really apprehensive. I've never done anything like this before and felt a bit out of my depth. Now it's my favourite half an hour of my week!

What have been some of the favourite moments or breakthrough moments with your student?
I have honestly loved it. I love the fact that you build a rapport with the student you are assigned which gets stronger with each session. My student was really shy at first and it was really difficult to get her to talk to me, but to see her develop over the weeks to get to the stage where she's quite chatty and the first time she shouted "BYE KIM!" really loudly when she finished her session, brought tears to my eyes and joy to my heart. To hear her confidence building week-on-week, is so rewarding and knowing that I've played a little part in her reading journey is quite incredible and very special.

How did you find the level of support from the Chapter One team?
The level of support has been brilliant and there are so many online resources available. If you have an issue, and contact them, their response time is so quick and the issue dealt with quickly and efficiently. To do the practice sessions in advance was really helpful and I know they are always just a message away should I need to contact them.

What would your own top tips be to a new Chapter One online reading volunteer?
Embrace it. Know that by helping a child now, in their early years, can shape their life and their future and that kind of blows my mind a little bit. I would definitely encourage everyone to spare a small amount of time to get involved with this brilliant initiative.