03 April 2023
Why I volunteer - Sarah Lao, Mishcon de Reya
"I love the fact that you're engaging with the same child every week - you really get a sense of progress and how they're developing over time."
---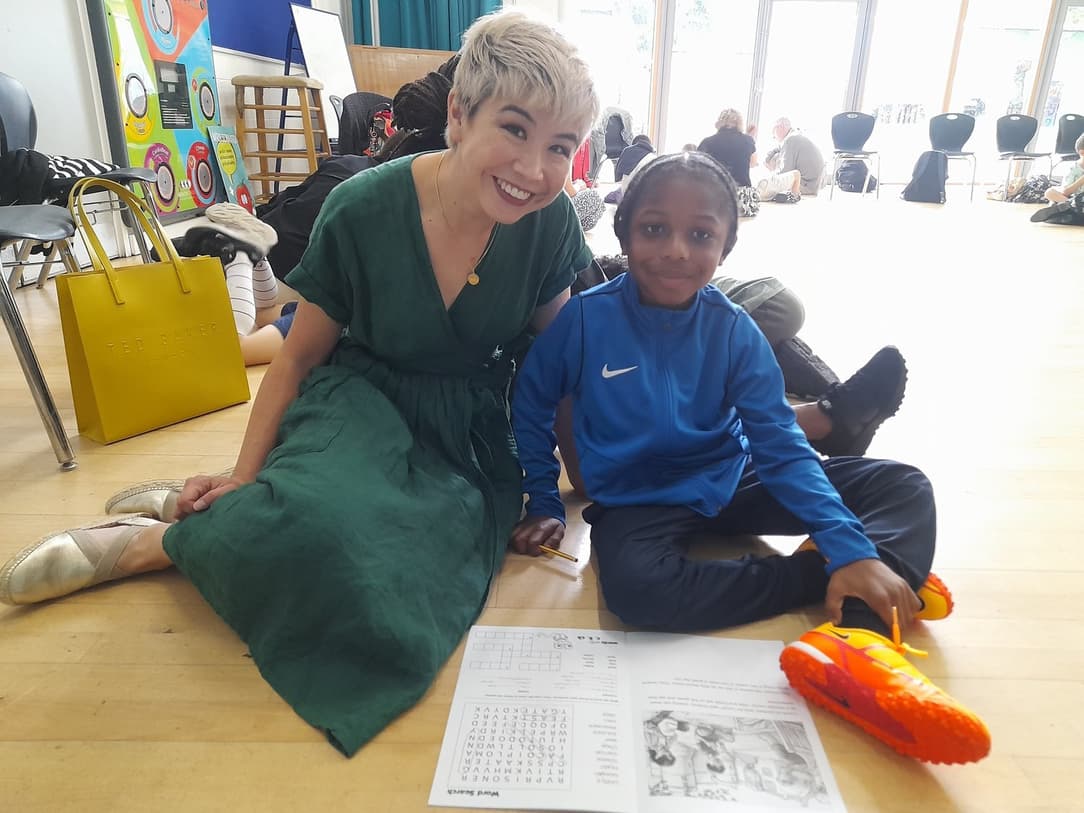 Sarah Lao is the Communications Manager at the law firm Mishcon de Reya. She is in her second year as a Chapter One online reading volunteer.
Why did you sign up as an online reading volunteer with Chapter One?
Mishcon de Reya has a pretty extensive impact programme, and it was one of the things that I was really keen to get involved with when I first started at the firm. I'd been looking at opportunities that I thought would be interesting and rewarding and the Chapter One programme really stood out as something which would give me an opportunity to volunteer regularly and to be able to contribute my skills and my time in a way that would make a difference. I was really excited by the extent of the programme. I watched the introductory videos and I thought, "this is something I'd really love to be a part of".
Describe the signing up process? Was it straightforward?
From the perspective of how it works at Mishcon de Reya, anyone who's interested in the programme at the firm puts their names forward to the impact team, which then coordinates the cohort and passes the volunteers' names to Chapter One. That's the first step. And then once we knew that we'd been accepted, we were given broader introductions and training to make sure that we were fully aware of our responsibilities as part of the programme and the types of things that we would be required to do. One of the things that really stood out for me was the fact that there's a lot of really fantastic resources and that you get the sense that the programme is really supportive. You can chat to people whenever you need to. Getting started was a really supportive and inclusive process.
How has online volunteering been for you?
Initially, I felt a bit uncertain about what online volunteering would be like. The volunteering I've done in the past has been the traditional in-person kind. I recall that I felt a little uncertain about how the dynamic of reading with a child would work online. But obviously the last couple of years have challenged all of us to think about how we work and how we engage with each other. And so I think that's something that probably, in a weird way, made me feel a bit more comfortable about taking part in a programme which was completely online. But also the introductory materials from Chapter One are really clear about how the process works, they really help you feel comfortable. And then it's about thinking about how you can best build a rapport with your student as you read and work together.
What have been some of the favourite moments or breakthrough moments with your student?
It's been brilliant. I love the fact that you're engaging with the same child every week - you really get a sense of progress and how they're developing over time. The most exciting thing is sensing their confidence building. Each week, I've been really struck by how far my student Henry has come in what feels like a comparatively short period of time. His confidence in reading, his fluency, have really grown substantially. And knowing that our sessions could have helped to play a part in that is really special and rewarding.
Do you feel Henry's come out of his shell?
Yeah, absolutely. While in our sessions we focus on the reading, there is also some time for important interpersonal stuff and asking general questions about what Henry likes to do at school which allows me to relate the things that we're reading together to his life. It helps build that bigger picture and he becomes more comfortable with me. I'm going to reflect on something a bit funny here. I'm Australian and I was really conscious that sometimes the way that I say or pronounce things can be quite different. And at first I was a bit hesitant about signing up to the programme because I thought my accent could confuse the students! But that hasn't been a problem at all.
How did you find the level of support from the Chapter One team?
The level of support has been brilliant. There are so many different ways that you can engage with the Chapter One team and if you ever have any issues there's always someone on hand to assist you. This is combined with an extensive bank of resources that was really helpful in terms of my personal confidence in getting started but also in giving me ideas, especially about how I might engage with my student in the first few sessions.
What would your own top tips be to a new Chapter One online reading volunteer?
In the first few sessions, as you try and establish a rapport with your student, use and think about some of the tips from the Chapter One team that are available. Think about the types of questions you might ask your student in order to get to know them and how you might ask them. During initial sessions, for example, I asked my student some general questions (such as whether he had siblings, any pets and his favourite football team) and took some notes to refer back to in later sessions.

HOW CAN COMPANIES GET INVOLVED IN CHAPTER ONE?
Chapter One's virtual, time-efficient, flexible model for volunteering will enhance your company's employee value proposition, whilst fulfilling CSR commitments around education, social mobility and inclusion. Employees can:
- volunteer online directly from their desks with no travel
- make a direct impact on the lives of disadvantaged children
- support local communities across the UK
- improve their own well-being by helping others
- reconnect with your company's social purpose
If you're interested in joining us, we'd love to hear from you! You'll find out who we currently work with on our partners' page. You can contact us here or email sarah.taylor@chapterone.org